HYBRID is the most versatile Sands of the Desert sand ever created. It features the pourable power of Synthetics combined with the stir-crazy endurance of Waxed Sands. The best of both worlds!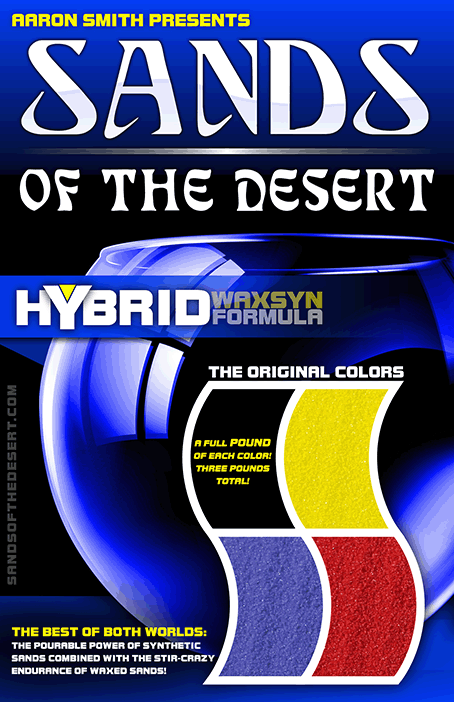 HYBRID Sand is not sprayed with any chemicals or subjected to silicone vapors. The traditional method for making synthetic magic sand is history. HYBRID is the future! It is a premium Waxed Sand with a malleable second skin that mimics Synthetic characteristics at increased potency.

Fully surrounded or center stage, a wave of your hand turns clear water eerie black (sold separately). Pour three different colored Sands into the water and mix them around. Instead of an impossible mess, plunge your hand into the water and emerge with each color of Sand, one by one, separate and dry!

Add Sands of the Desert to your stage, street, or closeup show. HYBRID looks like a movie special effect when poured into water thanks to the special "wetsuit" coating, plus it bonds together for added strength when squeezed. Looks like sand. Works like magic!

• Easy to use, versatile HYBRID sand!
• Wet sand flows DRY from your hand!
• Legendary magic performed worldwide!
• Beautiful display of magic, even closeup!
• One FULL POUND of each color Sand!

Sands of the Desert HYBRID is a special formula created by Aaron Smith exclusively for magicians. You cannot buy this product under any other name from any other industry. The instructions include closeup and stage routines for modern audiences with a section devoted to the new HYBRID technology.

Sands of the Desert HYBRID lasts longer, works better, and makes you more amazing. Three hundred years of scientific innovation all rolled up into each incredible grain. Why choose one or the other when you can go HYBRID!
Sands of the Desert Originals includes a full pound of each color, yellow, blue, and red.